News / 19th October 2023
Australia votes 'No' to the Voice
On the evening of Saturday, 14 October, the Voice referendum failed, with a majority of voters in the majority of states voting against the proposed change to the Australian Constitution.
Though the Voice referendum has failed, it is still a possibility, in theory, for Parliament to legislate a Voice.
Prime Minister Anthony Albanese has, however, said that he would not push to legislate a Voice if the referendum failed.
Mr Albanese said that though he was disappointed with the result of the referendum, he would continue to seek better outcomes for Indigenous Australians, their children, and the generations to come.
Minister for Indigenous Australians, Linda Burney acknowledged that the last few months have been tough for Indigenous Australians and said that all Indigenous Australians should be proud of who they are.
Ms Burney said this is not the end of reconciliation and that in the coming months she would have more to say about the government's renewed commitment to closing the gap.
"We all agree we need better outcomes for First Nations people," she said.
Opposition Leader Peter Dutton said he thought the result of the referendum was "good for the country" and said the Coalition is committed to addressing Indigenous disadvantage, but disagrees that the Voice would have been the correct solution.
He described the Voice as "the referendum that Australia didn't need to have."
Shadow Minister for Indigenous Australians, Jacinta Nampijinpa Price said much work has to be done to bring Australia together to tackle tough issues.
"The Australian people have said 'no' to this, the Australian people want practical outcomes; a unified country where we can move forward together."
Indigenous supporters of the Voice issued a statement calling for a 'Week of Silence' starting from the evening of Saturday, 14 October, during which Indigenous leaders would not further comment on the result, but rather take time to grieve the outcome and reflect on its significance.
The statement also requested that Aboriginal and Torres Strait Islander flags be lowered to half-mast throughout this week of silence.
The numbers
Nationally, 60.73% voted against the Voice, with only 39.27% of Australians voting in favour of the Voice.
When looking from a state level, none of the six states voted with a majority of 'yes' votes.
Of these states, Queensland had the highest majority of 'No' voters, with 68.95% of people voting against the Voice.
Though no states voted in favour of the Voice, Victoria had the highest percentage of 'Yes' votes for a state, with 44.96% of people voting in favour of the Voice, and 55.04% of people voting against it.
The ACT was the only territory to vote in favour of the Voice, with 60.79% of people voting 'yes', and 39.21% voting 'no.'
The full list of results by state/territory can be found below:
NSW – 40.33% Yes, 59.67% No.
QLD – 31.05% Yes, 68.95% No.
SA – 35.21% Yes, 64.79% No.
TAS – 40.44% Yes, 59.56% No.
VIC – 44.96% Yes, 55.04% No.
WA – 36.24% Yes, 63.76% No.
ACT – 60.79% Yes, 39.21% No.
NT – 39.48% Yes, 60.52% No.
Though the 'No' vote formed the majority in every state, if you take a closer look at results from areas with a higher proportion of Indigenous residents it reveals that the 'Yes' vote did better than the overall state results indicate.
Palm Island, Queensland - 91% Indigenous population: 75.1% Yes, 24% No.
Mornington Island, Queensland – 80% Indigenous population: 78% Yes, 22% No.
21 out of 22 Remote Mobile Teams that visited remote communities in the Northern Territory electorate of Lingiari held a majority 'Yes' vote.
This electorate covers the entirety of the Northern Territory, excluding Darwin, and has an Indigenous population of 40%.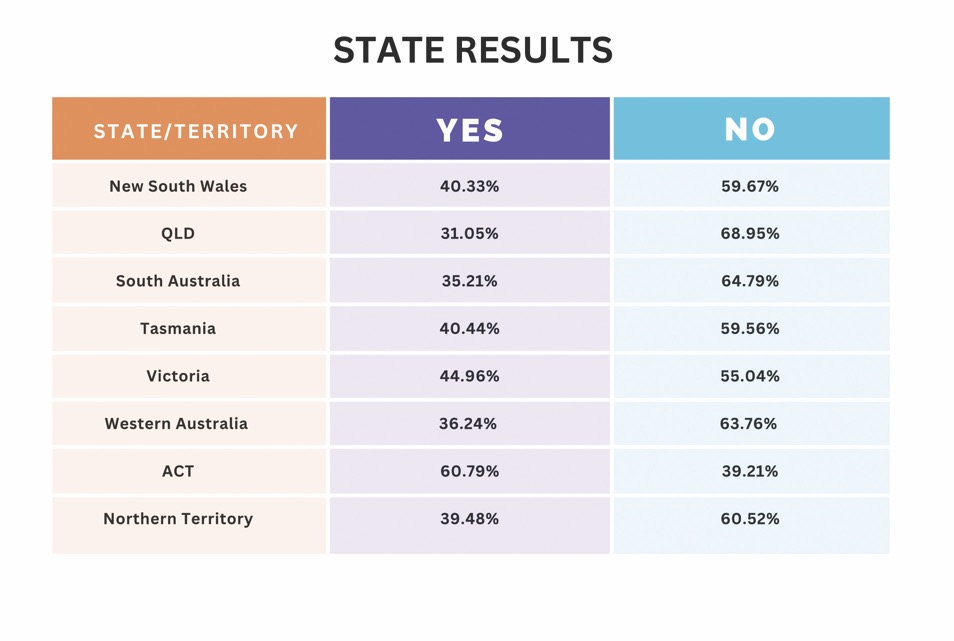 Local results
In the Parkes Electorate, from a total of 89,910 voters across 94 polling places, only 20.61% of people voted in favour of the Voice, with 79.39% of people voting against the proposed change.
In the Warrumbungle Shire, 18.86% of people voted in favour of the Voice while 80.06% of people voted against it, with 1.08% being classed as informal votes.
Following is a breakdown of how the different towns across the Shire voted on the referendum day. (please note: this does not include postal votes)
Coonabarabran – 23.69% Yes, 75% No, 1.31% Informal.
Binnaway – 17.64% Yes, 81.55% No, 0.8% Informal. Baradine – 14.44% Yes, 84.44% No, 1.11% Informal.
Coolah – 15.73% Yes, 83.18% No, 1.09% Informal.
Dunedoo – 15.90% Yes, 82.90% No, 1.20% Informal.
Mendooran – 13.64% Yes, 86.36% No, 0% Informal.
Purlewaugh – 14.29% Yes, 84.92% No, 0.79% Informal.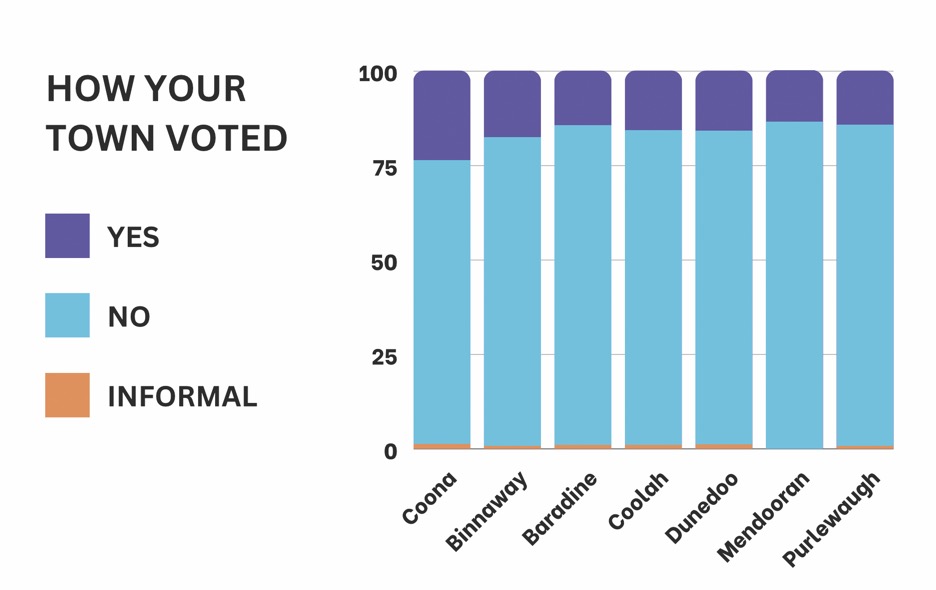 Back to News