Featured / News / Education / 31st October 2022
Craig Ashby inspires CHS students to 'dream big'
Coonabarabran High School has warmly welcomed the return of Gamilaroi teacher, Craig Ashby.
After some time away teaching at St Gregory's College in Sydney, Craig Ashby, has returned to Coonabarabran High School teaching Gamilaraay languages classes. During his time at St Gregory's, Mr Ashby taught Catholic Studies, History and Geography classes, while supporting 78 Indigenous students from K-12 and liaising with parents, teachers and scholarship providers.
Mr Ashby said that while he valued his time away working at St Gregory's, he had always felt that Coonabarabran was the place for him to live and teach.
"My grandfather Abby Ashby who was a jockey and horse trainer was born in Coonabarabran and lived at Burra Bee Dee and is a descendant of Ellen Ashby (Nee Cain) – so I see my connection with Coonabarabran and CHS as one that is of kinship," Mr Ashby said.
"Teaching at CHS allows me to reconnect with family and learn more about my connection to this place."
When it comes to teaching language, Mr Ashby said his approach is somewhat different to other school language programs and that linguistics is his main focus.
"I teach students to deconstruct and reconstruct language conventions and functions, which I believe empowers students to know how the language works."
The language program at CHS is differentiated so all students can grow and achieve in the subject. Students are encouraged to develop their own goals focussed on relationships, academic success and culture, giving everyone something to work towards collectively.
One of the challenges that comes with teaching language, however, is time.
Mr Ashby said that there are a number of ideas that the school has for supporting Gamilaraay language in other local schools and the community, but these programs take time.
"Our students have expressed ideas of teaching/sharing language with the primary/preschools," Mr Ashby said.
"Eventually we would like to develop resources for the community, but this takes time."
While there are challenges, Mr Ashby said that the school has been very blessed to have the support of Elders and large companies such as Officeworks that have helped to provide knowledge and resources to improve student-learning outcomes.
Mr Ashby said it is rewarding to observe the growth and see everyone feel included and having a sense of accountability in reclaiming and maintaining the local Gamilaraay language, and how the growing prevalence of the language has nourished the culture of the whole school community.
"I feel that being a Gamilaroi teacher comes with a responsibility to contribute and encourage the next generation to dream big and do well."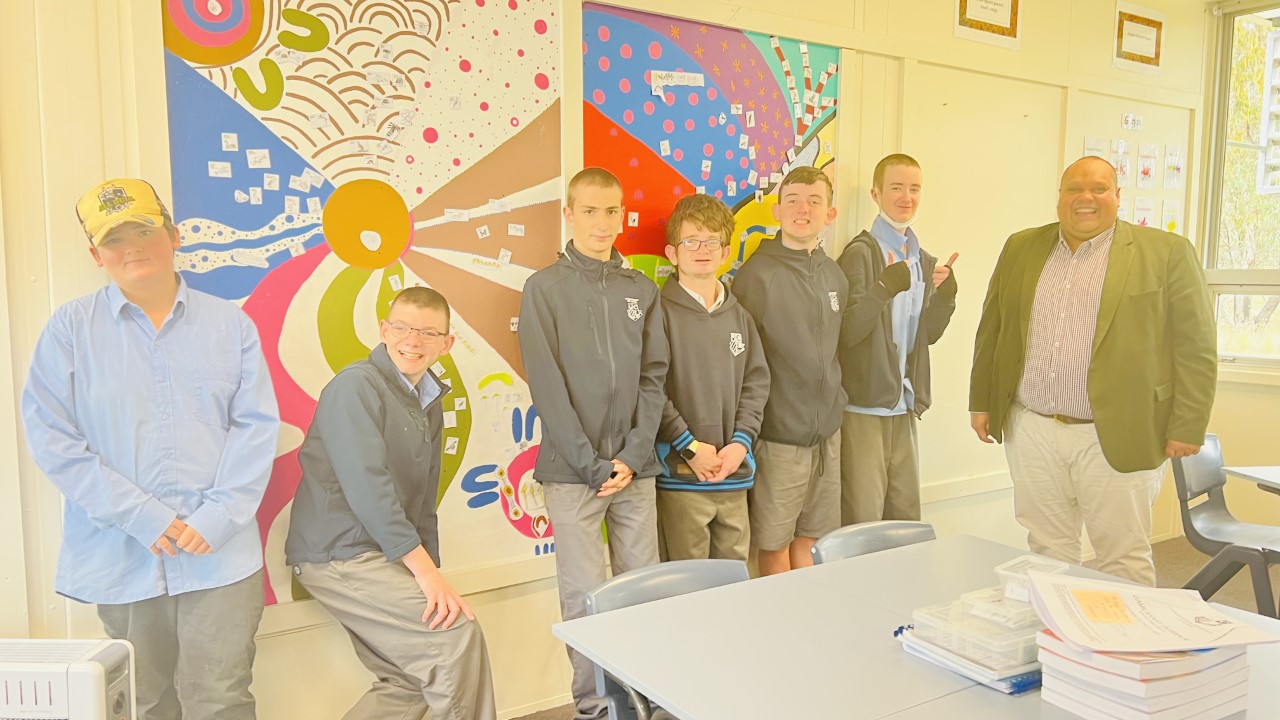 Students and staff of Coonabarabran High School are thrilled with the return of popular teacher, Craig Ashby, who is teaching Indigenous language.
Back to News
Category
Featured / News / Education