Business / Community / 15th June 2023
Economic value of Expo
Whether it's rain or shine, the North West Equestrian Expo always seems to bring some much-appreciated growth to Coonabarabran's local businesses.
When speaking to some of our local businesses, it seemed that the overall impact of Expo was a positive one.
Business was booming at Surf, Work and Street, with the popular retail store being much busier over the Expo weekend than in previous years.
Jenna Flood, owner of Coonabarabran Bakery, said business was insanely busy over the weekend, juggling both the Hut at the Showground as well as the main street shop during the course of the Expo.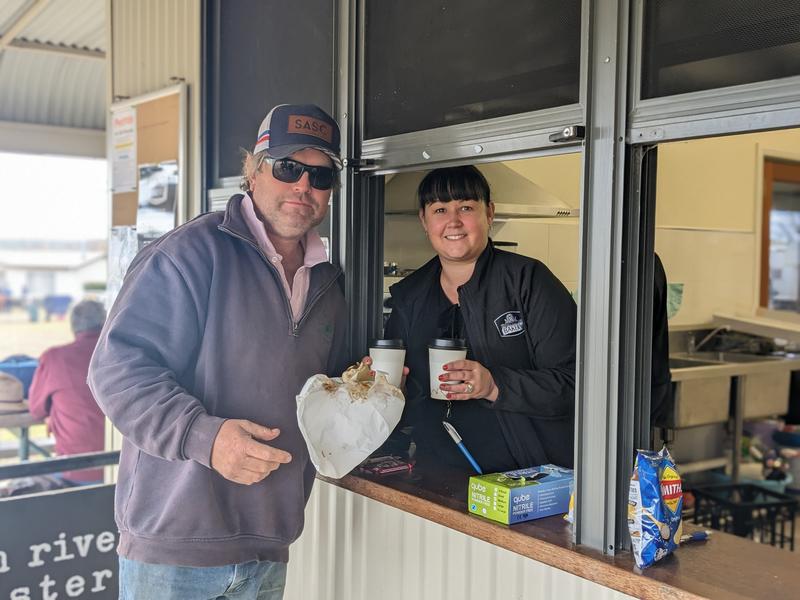 Jenna Flood from Coonabarabran Bakery serves a hot coffee to Andrew Gill of Narromine.
---
Amber Burton, from Roach's Home Hardware, said that although Expo brings increased business, for them, this year had been quieter than previous years.
"The times we are living in are expensive; maybe they had to be more self- sufficient up there this year," Amber said.
Warrumbungle Shire Council mayor, Councillor Ambrose Doolan said he had attended Expo and was pleased to see the town's local accommodation venues were full, with motel signs of lit with 'no vacancy'.
Cr Doolan said it was not just during Expo itself that the local economy benefitted from the event, but there was a flow-on effect that extended throughout the year.
"It's not just one quick event and 'that's it' – many of the riders come back to town for practice, and I even spoke to one family over the weekend who said they would be returning to town to visit the Warrumbungles," Cr Doolan said.
Cr Doolan also commented on the many businesses that benefit from Expo including local motels, cafes and eateries, as well as local organisations such as Rotary.
"It's a wonderful thing and the organisers are to be congratulated on their efforts in putting together such an important event for our town."
Back to News