Featured / Community / Education / 14th February 2023
Laine takes 'big' school in his stride
The first day of Kindergarten can be more daunting for parents than their kids.
There doesn't seem to be much of an emotional middle ground for parents at this time of the year when it comes to sending their off spring to school.
It's either a celebration or an emotional roller coaster.
Talisha Kuras predicts it will be the latter for her as she envisions waving goodbye to her son, Laine Ritchie, on his first day of kindergarten at St Lawrence's Catholic Primary School.
But she doesn't expect Laine to reciprocate those feelings.
"I'm nervous, with Laine being my only child. This is a first for us both, I'll definitely be emotional on the day," she explained.
"Laine's already excited though. He did the Little Lawries program at the end of last year and loved it, so I think he will transition well.
"He'll love learning new things, he's very inquisitive.
"He's super excited about wearing his uniform and being a 'big' school boy."
Ms Kuras said from her experience with the Little Lawries program and from talking to other parents she was happy with her choice of school, which she said was "welcoming, child focused and community minded."
"I'm nervous, with Laine being my only child. This is a first for us both."
While Ms Kuras expects Laine to enjoy his time in Kindy, she admitted there were some aspects he would likely struggle with.
"Our biggest challenge I think will be getting Laine out of holiday mode," she laughed.
"He's not going to like waking up early."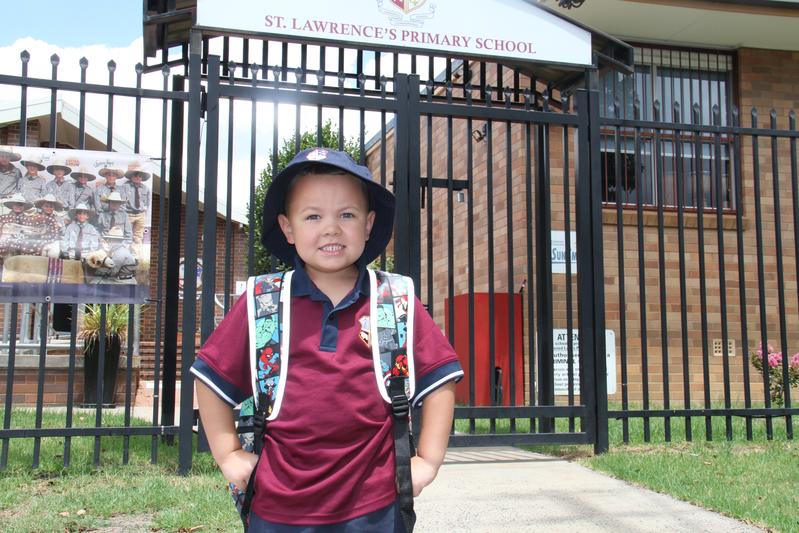 PHOTO: Laine Ritchie is excited to be starting school at St Lawrence's in Coonabarabran this week.
---
When Laine isn't at school Ms Kuras said he will likely be found drawing, playing outside, swimming or playing his favourite games – Sonic the Hedgehog or Minecraft.
"I'm glad he's being raised on Country and with his family here in Coonabarabran," she said.
"But Coonabarabran could definitely do with more programs and activities centred around younger kids."
Back to News