Featured / Business / Community / 3rd November 2022
NEW BIZ: Menu twist at Coona's new cafe
On a perfect Sunday in spring, the doors swung open to Coonabarabran's latest eatery –Yaama Cafe. The Coonabarabran Times spoke with cafe owner, Jess Sulter, about bringing Indigenous culture to the community through food and art.
What prompted you to open Yaama Cafe in Coonabarabran?
I felt that it was time to come home and be back with family. I was running my business in Gulgong, teaching cultural education in the schools, attending markets and selling my items as well as retailing them through the Indigiearth café in Mudgee. We use Indigenous ingredients in our home cooking, along with the retail range of Indigiearth products. One day, visiting Coona, we came across the best space to bring our art and Indigenous food to the community. Cooking is how I share the love with my family, onlynowI'mjustsharing with my home town too!
What inspired the name 'Yaama Cafe'?
We considered using other Gamilaraay words for the name, but thought that 'Yaama' was a word that most people in the area would know and be able to pronounce. And since 'Yaama' means 'hello', we thought it was a good way to make the cafe a welcoming place and let people know that it's an Indigenous business.
Tell us a little bit about yourself and your background?
I'm Coona born and bred – I have a very large family here in Coona so it's good to come home and be back with my family. I'd moved away for 10 years and during that time I worked in disability support and doing my Indigenous artwork, so it's good to be able to bring that back home. Coonabarabran is known for supporting local businesses.
What has been the reaction so far from residents?
There has been nothing but good feedback so far. I feel like everyone has welcomed me with open arms, and I think people really missed having something in the former Tastebuds space as well. People seem to be happy about it and keen to try something new.
Opening a new business takes time – how long has Yaama Cafe been in the making?
It was actually a pretty smooth process. I was in town with my partner, Josh, and the kids one weekend and saw the space and thought it would be a good idea to open a cafe. We called the number and got a price and next thing we knew, we were selling our house and moving back to Coona to run a cafe.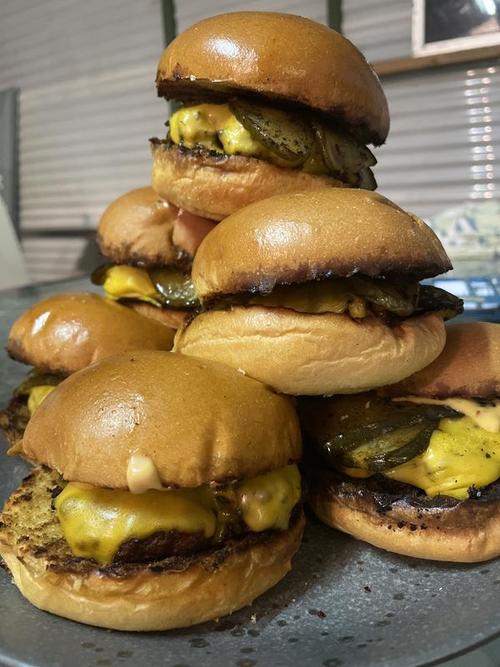 IMAGE: Yaama Cafe opened its doors for the first time on Sunday, 16 October, serving up some delicious food options including this cheeseburger with homemade beef patty.
---
How has Indigenous culture been incorporated into the cafe?
We've got retail items made from Indigenous fabrics that are all ethically sourced, as well as my Indigenous art. We've also incorporated Indigenous bush tucker throughout the menu. It's a contemporary style of Indigenous foods, with a touch of bush tucker incorporated into other foods. For example, we've got wattle seed in the base of our caramel slice, we use a lilly pilly jam for our lamingtons and scones, and bush tomato chutney on our bacon and egg rolls. This is how we are able to showcase a beautiful part of our Indigenous culture – through food.
What's your go-to item on the menu?
My go-to item on the menu would have to be the cheeseburger. It's made with a homemade beef patty, delicious cheese and these particular pickles that just make it so good – I usually don't even like pickles!
What are your hopes and future visions for the business?
Just to sustain the business and open up some employment opportunities for Indigenous and non-Indigenous people in the area. It will be good to provide an opportunity for people to try new things and experience Indigenous culture and incorporate Indigenous foods into the menu in a contemporary way.
---
Yaama Cafe is located at 3/48 Dalgarno St, Coonabarabran (opposite Woolies!)
Open every day except Tuesdays. Contact: 0414 486 068
Back to News
Category
Featured / Business / Community