Community / Business / Featured / 13th February 2023
New Biz: Sydney Classic Car Restoration
A highly-regarded classic car restoration business has relocated to Coonabarabran, with pride in craftmanship and classic restoration techniques at the core of the operation.
You were an established business in Sydney. What prompted you to move to Coonabarabran?
We purchased a block of land three years ago as we were familiar with the area from previous employment and always saw ourselves moving and living out here. Sydney was great for the establishment of business and we have secured a fantastic customer base, along with their ongoing support, so it was an easy decision to make the move.
Tell us about your business and the services you offer?
We are an automotive restoration business specialising in extremely unique and classic cars. We have established ourselves to provide a unique and specialised experience for our clients both domestic and internationally. Providing classic restoration techniques such as metal finishing, led wiping and the re-fabrication of panels that no longer can be bought due to the rare demand.
Tell us a little bit about yourselves and your backgrounds.
Originally from New Zealand, I began the journey of my apprenticeship in 1987 and was one of the fortunate candidates to be taught in a shop cherishing the traditional methods of panel beating and coach building. Through this we have been able to replicate these techniques into restoration of our cars and pride ourselves on upholding this value.
After moving to Australia in 1990 I wanted to broaden my skills in the trade so I surrounded myself with and built friendships within the car industry. This allowed me to notice the negative image associated with the restoration industry.
This inspired me to operate a business with complete transparency about the restoration process and what it entails, and it allows for a smooth and stress-free experience for the clients.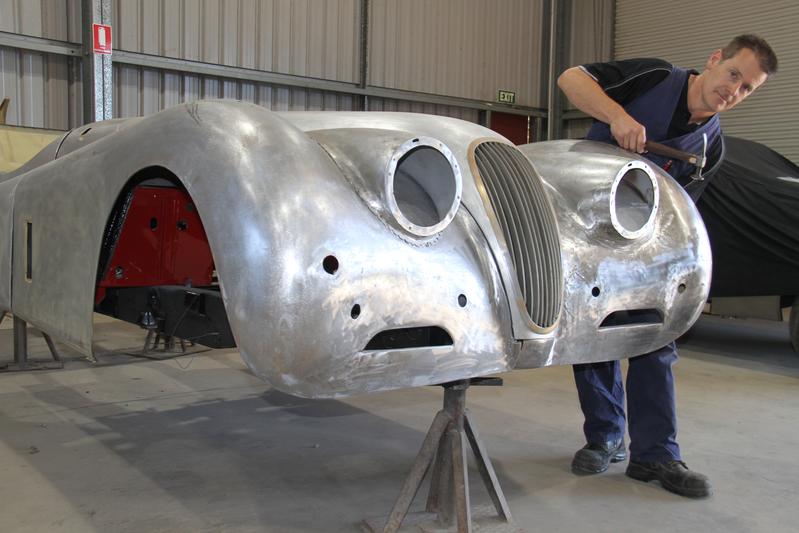 PHOTO: Grant Browan working on one of his many classic cars – a Shelby Cobra.
---
Coonabarabran is known for supporting its local businesses. What has been the reaction so far from residents?
Support, support, support. Through the process of moving to Coonabarabran we have met a couple of families which has helped to make it a smooth transition for us and a positive experience. This has overall expanded our business name and allows for residents to come into the workshop and ask and assess what we do.
What are your hopes and future visions for the venture?
Establishing the business in Coonabarabran we had the goal of employing young locals to expand and broaden our teaching techniques, which ultimately allows for the continuation of transparency throughout the industry. We have already succeeded with this goal having hired an apprentice, and may need more staff down the track.
What is your point of difference from other similar businesses?
Our transparency policies set us apart from other businesses and is something that we pride ourselves on. This allows clients to come into the workshop when needed to see the progress being made on their car. We provide an equal array of artistry throughout our cars, never depending on the quality, rarity or value of the car.
What do you like the most about the region so far?
The spirit of the community allows for a friendly and welcoming environment for everyone and the vast display of outdoor scenery and activities.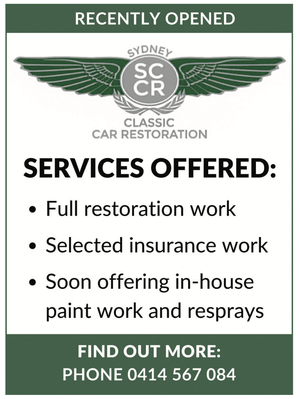 Back to News