News / Featured / Social / Community / 7th March 2023
Painting the town rainbow
As Sydney World Pride celebrations come to a close, Coonabarabran is preparing to paint the town rainbow for its first ever pride event.
'Be colourful, be kind, be proud' reads the promotional poster for Pride in the Park, a family-friendly celebration to be held at Neilson Park, Coonabarabran on Saturday, 25 March.
Organised by suicide prevention network – Yarn, Support, Connect – Pride in the Park is the first of its kind in the Warrumbungle region, a community event that aims to bring awareness to LGBTQIA+ issues and create an atmosphere of inclusivity, acceptance and fun.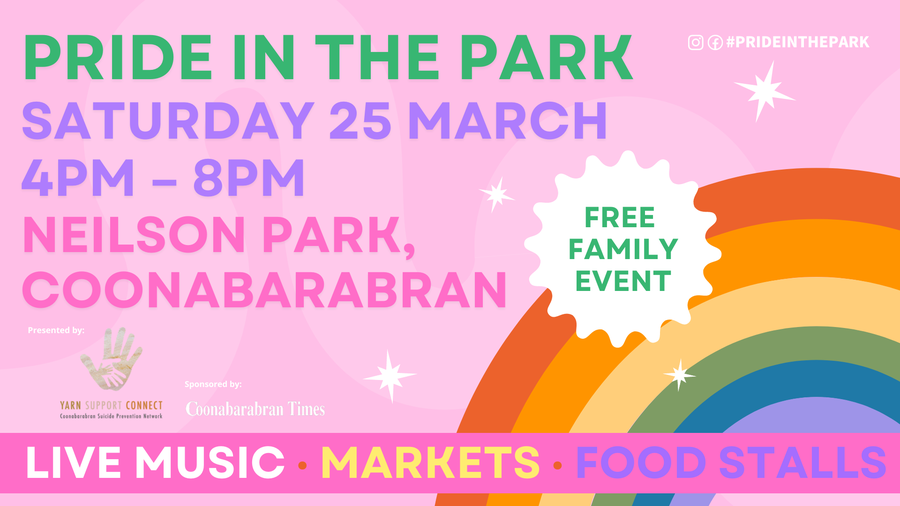 "The LGBTQIA+ community is overrepresented in national suicide statistics and Yarn want to show that everybody is welcome and accepted here," says Yarn chairperson and Warrumbungle Shire councillor Kodi Brady. "It is an afternoon for all to come out and socialise and have a good time."
As part of the festivities, Yarn, Support, Connect has fund-raised to provide colourful pride flags to fly along Coonabarabran's main street during the month of March.
Pride in the Park will brighten up Neilsen Park with markets and live music from 4pm on Saturday, 25 March. Stalls will include local and visiting vendors, food and drinks, as well as LGBTQIA+ support and health services such as ACON.
Crazy Sam's Coonabarabran has their their pride collection on full display front of store, including accessories, T-shirts, tutus, flags, hats and more – grab yourself a rainbow pin and join in!
To get involved or for more information, contact Kodi Brady at Yarn, Support, Connect on 0411 696 490 or kodibrady81@gmail.com
IMAGE: Local businesses and shopfronts are dressing up their windows to help create an atmosphere of inclusivity, acceptance and fun.
---
LGBTQIA+ RESOURCES & SUPPORT SERVICES:
ACON
ACON is a NSW based organisation specialising in HIV prevention, HIV support and LGBTIQ health. Services include state-wide counselling, care coordination, substance support, peer education and health promotion.
NSW Freecall: 1800 063 060
Website: acon.org.au
Email: regionaloutreach@acon.org.au

Twenty10 incorporating GLCS NSW
Twenty10 provides a range of support services and social spaces for people of diverse genders, sexualities and sexes in NSW. Services are aimed specifically at people aged under 26.
Regional support free call: 1800 65 2010 (10am – 6pm, Monday–Friday)
Website: twenty10.org.au
Email: info@twenty10.org.au

The Gender Centre Inc.
The Gender Centre provides information and support to trans and gender-diverse people in NSW.
Regional NSW call: (02) 9569 2366 (9am–noon, 1–4.30pm, Monday–Friday)
Website: gendercentre.org.au
Email: reception@gendercentre.org.au
---
The Coonabrabran Times is a proud sponsor of Pride in the Park.
Back to News
Category
News / Featured / Social / Community