News / Community / Featured / 4th October 2022
Be alert but not alarmed: the Coona magpie map
Cue the horror movie music. With the warmer weather of Spring comes the return of territorial maggies. The black-and-white winged assassins will strike indiscriminately from anywhere at any time. Common targets include posties, cyclists and unsuspecting dog walkers. Check out our local magpie map for swooping hot-spots around town. And stay safe out there...
Coonabarabran resident Russell James and his fellow cohort of cyclists often find themselves in the firing line of angry magpies. In fact, the group of cyclists have become so used to being dive-bombed from above that they have given names to their seasonal attackers.
Sid Vicious controls the top weir area and the Bandulla Bomber's home turf is around the start of Bandulla Street to Reservoir Street and the Newell Highway.
Mr James said he is often harassed by both birds.
"When you cross the water and start heading up the hill at the top weir is when Sid Vicious gets you," he said. "You've got to slow down to get across the water and then its slow going up the hill, until Sid comes out and then you pick the pace up a bit.
"The Bandulla Bomber has given me a pretty good dust up in the past. He's not as crazy as Sid but he lets you know he's there."
Mr James said there was another unsavoury character on the western end of the racecourse.
"He's pretty vicious too. He really makes you put in the hard hards to get away from him," he said.
The avid cyclist shared his best tip when it came to the best defence against a dive bombing Magpie.
"Put zip ties in your helmet pointing upwards. It obviously doesn't stop them swooping you but it sort of keeps them at a distance so they can't get to your fleshy bits," says cyclist and local magpie-magnet Russell James.
It's a common misconception though that all magpies will attack people.
Information from the CSIRO reveals its only the males that become protective of their offspring and then only about 10 percent will actively engage anyone they perceive as a threat.
A spokesperson from the research centre says many techniques have been trialled in a bid to decrease the attacks. From wearing eyes on the back of helmets and all different kind of decorations. None have shown much promise however, so the magpies will continue to have the upperhand, at least until the end of the swooping season in October when man and bird will once again learn to live in peace.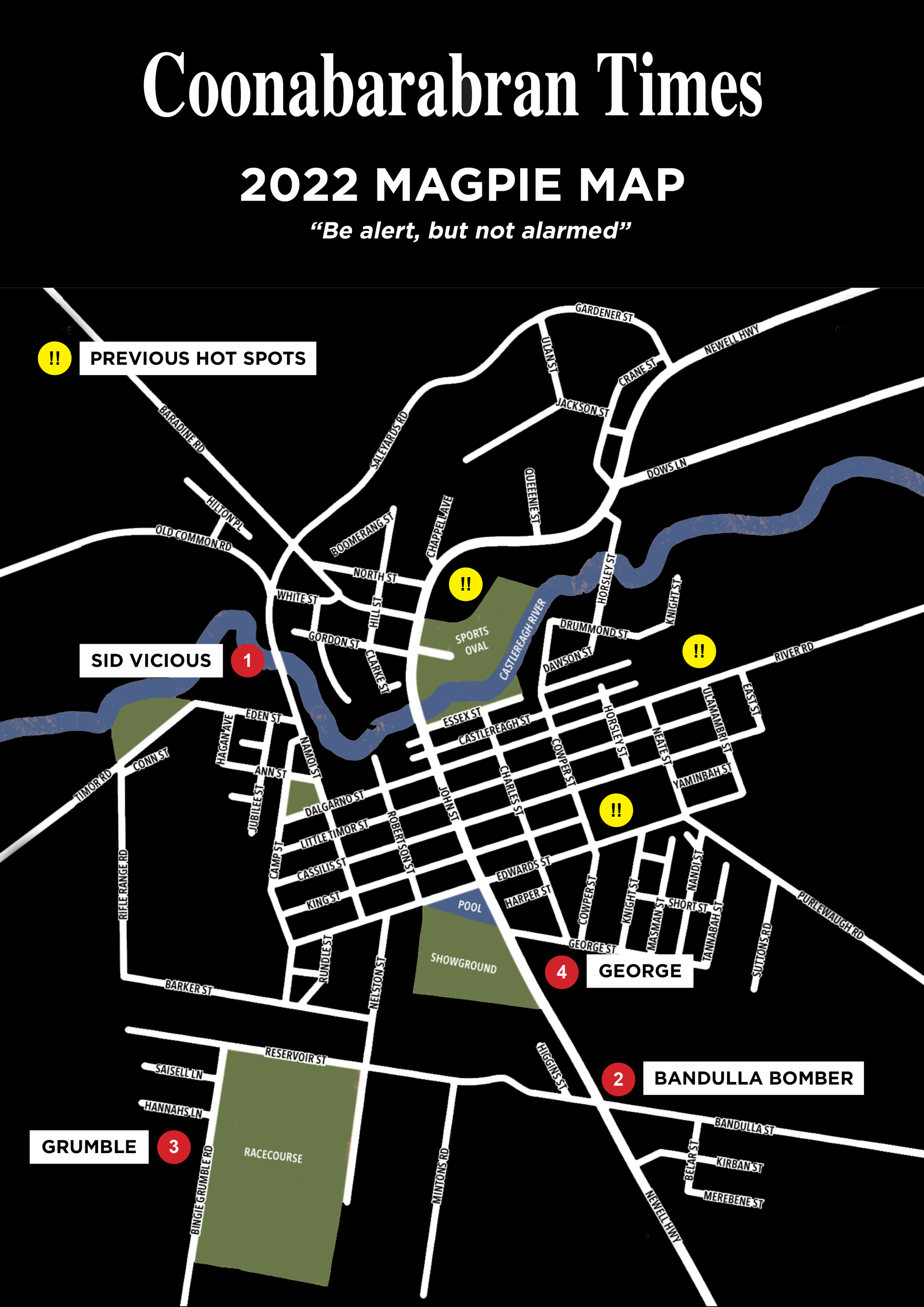 ---
Tips to avoid becoming a swooping statistic:
DO NOT feed swooping magpies as this may only encourage swooping behaviour.

Travel in groups, as swooping birds usually only target individuals.

Carry an open umbrella above your head.

Wear sunglasses and a broad-brimmed hat.

If you ride a bike, walk it through magpie territory or have a flag on the back of the bike that is higher than your head.

Do not act aggressively. If you wave your arms about or shout, the magpies will see you as a threat to the nest – and not just this year, but for up to five years to come.

Walk, don't run.

Avoid making eye contact with the birds.

If you know of an area that has swooping magpies, put a sign up to warn passers-by.
Back to News
Category
News / Community / Featured