Featured / News / 6th April 2023
Eye in the sky – drone an invasion of privacy
Local residents fear some drone operators are not flying by the rules, causing a disturbing invasion of privacy.
Several Coonabarabran residents have expressed the concern that their privacy is being invaded by people operating drones in residential areas of town.
A drone that is believed to be equipped with a recording device has been witnessed on several occasions recently, hovering around the western end of Cassilis Street and neighbouring properties.
Jessica Ford, who lives in the vicinity, has witnessed the drone lurking around homes and said she had a close encounter with it on the afternoon of Monday, 27 March.
"My three kids were in the backyard playing and my eldest came running inside and yelled out that the drone was out the back," she said.
"I went out and it was hovering about five to six metres off the ground, over the kids playing on the trampoline.
"It's a gross thought that the wrong people controlling these drones are capturing young children in their backyards."
Ms Ford said she wasn't aware what the laws were in regards to the situation, but said she held numerous concerns about the use of drones over private homes.
"We don't know what they are using the drone for," she said.
"First of all it's a worry if they are filming kids in their backyards, but what if someone is using the drone to find out if people are home and they can then go break in?
"Or they could be looking for vulnerable people like elderly residents living alone.
"It's a bit scary to be honest."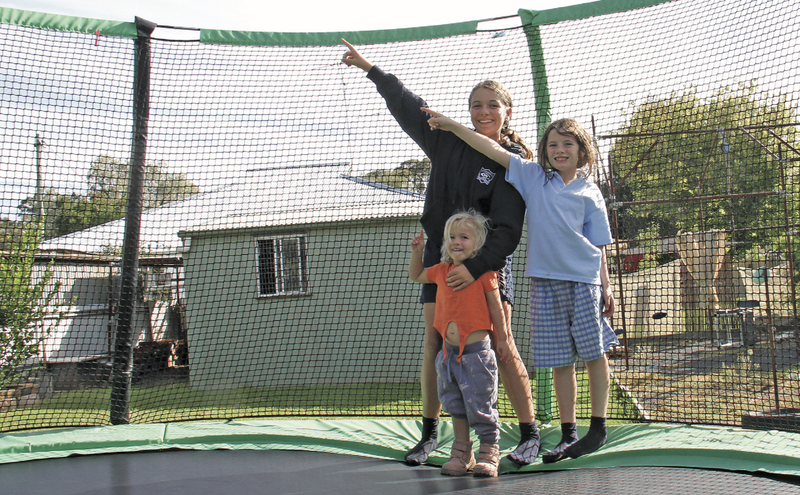 Lyla, Aurora and Bo McKernan point out where they recently saw the drone flying over them while they were playing in their backyard.
---
The Civil Aviation Safety Authority has a set of rules for recreational drone operators.
Among the guidelines includes the following rules: You must keep your drone at least 30 metres away from other people; you must keep your drone within visual line-of-sight; and you must respect personal privacy and not record or photograph people without their consent.
Fines of up to $1375 can be issued per offence.
Back to News