Community / Social / Featured / 14th October 2022
The Blow-in is back! And off to a B&S ball...
Bachelor & Spinster Ball (B&S)
noun (acronym/slang). A party or event held in rural Australia, for young people to meet and socialise. Money raised by the event often goes towards a charity or local cause.
---
There were no cafes open in Baradine on the morning of Sunday, 3 October. Or should I say 'cafe', singular. Of the two listed on Google Maps, only one seemed to be operating and the other, Casey's Corner, had shut up shop for the Labour Day long weekend. In a frankly insensitive move on her part, Casey didn't seem to have factored my hangover into her holiday plans.
And so my friend and I were left to wander Wellington Street at 8am, bereft and dehydrated until, at last, we spotted a shimmering mirage on the corner: Baradine IGA.
As we approached the register with our sad selection of goods – a family-sized packet of Doritos, two Dare Double Espressos – the cashier took one look at us and remarked wryly: 'There's been a few of you through here this morning.'
By 'you' she was almost certainly referring to the other dead-eyed 20-somethings stopping in the morning after the Baradine Scrubbers Ball, greasy with last night's makeup, ransacking the IGA aisles for Gatorade and paracetamol.
My friend and I sat on a bench outside and passed the Dorito bag between us, trading chippies along with half-formed memories from the night before.
That was one hell of a dance-floor kiss. Right as the chorus hit!
I needed water so badly I went into the kitchen and stuck my head under the tap.
They auctioned off that cricket bat for something like fifteen hundred bucks.
The one signed by Sam Smith?
The British singer? I think you mean Steve Smith.
Ah.
Tell you what, the band was bloody great.
Yeah. Were you on my shoulders at one point?
Attribute those quotes as you wish.
It had been a last-minute decision to attend. Only the Tuesday prior, Coona Times Director, Lynne (Baradine born and raised), had left a flyer on my desk, thus adding 'Baradine Scrubbers Ball' to the growing list of pitches I've received since launching this blog, most of which have been from my colleagues (bar a really good one from Jess Richards! Stay tuned…)
Indeed, The Blow-in blog really seems to have captured the imaginations of the Coona Times crew. Over the last few weeks they have nominated a range of activities with strong themes of physical exertion and/or potential embarrassment – ballroom dancing, horse riding, skating, water aerobics – all with the goal of helping me find my place, and some friends, in the community.
Or perhaps it's less noble than that? Maybe all of this enthusiasm is really coming from a place of twisted intrigue, akin to the morbid fascination we sometimes feel when watching other people humiliate themselves or do things very badly. It's the same corrupting impulse that feeds celebrity internet drama (hey, I'm not immune) or guarantees millions of views on YouTube 'fail' compilations (okay I am immune, what's wrong with you people?)
Genuine goodwill or gleeful schadenfreude? I may never be sure. Either way, I made a solemn 'blog oath' (like a 'blood oath' but less messy) that I would embrace any challenge thrown my way.
And so, because I'm a woman of my word and because it seemed like the lesser evil to water aerobics, off I went to the 2022 Baradine Scrubbers Ball.
I made a solemn 'blog oath' (like a 'blood oath' but less messy) that I would embrace any challenge thrown my way.
There's a long history of Bachelor and Spinster Balls (B&S') in Australia. I was going to write 'long and respected' history but that's simply just not true. Though they may have modest matchmaking origins, the B&S legacy has always been a scrappy one: cheap booze, live music, nice clothes that are more or less ruined by the end of the night.
Records show that B&S balls were being organised as far back as 1861. A uniquely Australian event, often held in a town hall or a big shed, B&S' were an opportunity for young people in the bush to get together and have a good time.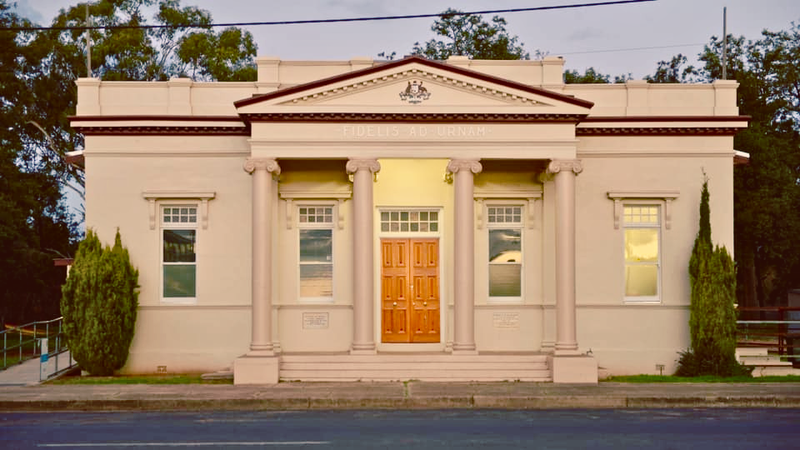 IMAGE: Baradine Memorial Hall, the venue for the 2022 Baradine Scrubbers Ball
---
However, there's been a steady decline in outback balls of late, whether due to tightening liquor licensing and insurance costs, or just a changing of the times. Personally, I grew up in Dubbo and, until now, I'd never been to one. But I'm also what my school teachers called 'conscientious' and a psychologist might call 'socially anxious' so that's not much of a marker.
According to the co-owner of the B&S Balls Australia's website and Facebook, Andrew Greenwood, there were about 400 balls a year back in the 1990s. The 2022 B&S Balls calendar currently boasts a lean 18.
Baradine Scrubbers Ball was not an official event on the B&S Balls social calendar. It was an unaffiliated function hosted by Baradine and District Progress Association and organised by former Baradine local Eliza Bunner to raise money for mental health and honour a late friend lost to suicide, Matthew Dewson.
Nonetheless, the brief was not unlike your typical B&S bash: BYO, Sunday best, country hall, live band playing all the pub classics.
The B&S legacy has always been a scrappy one: cheap booze, live music, nice clothes that are more or less ruined by the end of the night.
In excellent timing, a friend was coming to visit for the long weekend, and agreed to accompany me on my Baradine adventure. Together, we assembled outfits that could possibly pass as 'semi-formal' before booking last minute accomodation at the pub in town, and shoving cans of Coopers pale ale into a Woolies cooler bag. When we pulled up outside the pub, I instinctively opened my phone to 'see how far we'll have to walk to the venue.'
'Isn't that it?' said my friend, pointing directly across the road. Ah, country towns.
The ceiling at Baradine Memorial Hall was dripping with fairy lights, the back wall lined with eskies, rows of trestle tables crowded with platters and stubbies.
As it turned out, my friend and I were underdressed, if only slightly. Among heels and gowns, I was one of three women in (flat) boots and my friend was the only non-man who had opted for pants (very cool ones though).
Fortunately, zero people cared! We tacked onto the edge of a table and made fast friends with the group at the other end, who no doubt took pity on us and our single plate of water crackers and brie.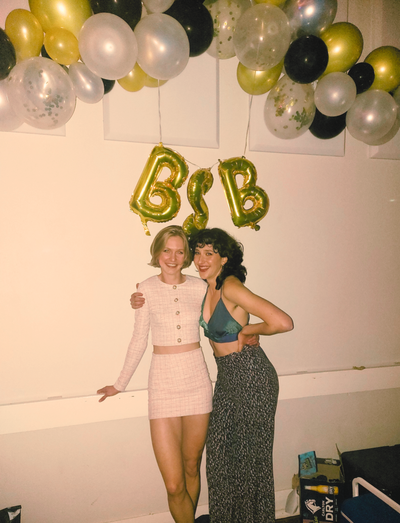 IMAGE: Emma and friend at the Barradine Scrubbers Ball
---
There was a silent auction early in the evening, followed by a very a loud one halfway through. The latter was held at a strategic point when many of the 200+ guests were several drinks deep and thus bold enough to bid $1500 on a cricket bat that didn't even bear the signature of Grammy award-winning singer-songwriter Sam Smith, just some bloke named Steve.
All for a good cause, though. According to the event Facebook page, a whopping $10,000 was raised for mental health charities Gotcha4Life and the Kindness Factory.
I ran into old school friends, danced badly, drank too much. In summary, we had a – pun, unfortunately, intended – ball.
The next morning, after leaving IGA, my friend and I decided to wander around town before getting behind the wheel. Turns out wandering around Baradine only takes about ten minutes so we did a few more laps, polishing off the Doritos as we went.
Finally, at around 10am, with the sun in our eyes and Baradine dreams in the rearview mirror, we hit the road.
---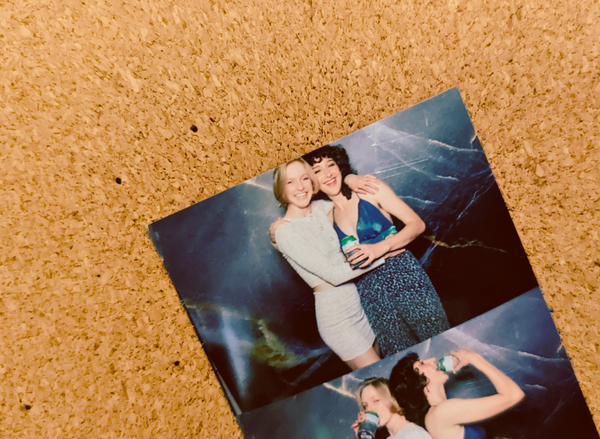 ​​​​​​
Our new 'Blow-in' blog series follows newcomer, Emma, from mountain top to coffee shop as she gets acquainted with the local way of life. Reach out to emma@coonabarabrantimes.com with your ideas for where we should send our blow-in next...
Back to News
Category
Community / Social / Featured