Featured / Social / Community / 15th December 2022
You can dance if you want to: Blow-in goes ballroom dancing
Ballroom dancing
noun. formal social dancing using a fixed series of steps and movements. Usually performed by couples in dance halls or at social gatherings, and also as a competitive activity.
---
When I call around to my friends and family to ask what they think of my dancing, not one of them can keep it together.
A few amused chuckles here, some nervous titters there, one straight out guffaw (what are older brothers for?)
'Well, that's very brave of you,' says mum through our shared laughter. She is referring in particular to my chosen line of inquiry, a variation on two key questions: if I'm out on the dance-floor doing my thing, what does that 'thing' look like? And (in the interest of gathering quantitative data): please rate my dancing out of ten.
With the exception of aforementioned older brother ('6/10, all limbs no rhythm!') the good and lovely people in my life hesitate and obfuscate, cushioning their responses with polite, evasive statements like:
'You have really good facial expressions!'
'Points for enthusiasm, you know?'
'It's less about the beat and more about the story.'
I'm not satisfied. Filled with an inexplicable and dangerous urge to know the full truth – a feeling I can only compare to ploughing on with a bad dinner party anecdote even when you sense, with plummeting certainty, that the punchline will run aground – I dig deeper.
Don't worry, I assure each of them, I know where my strengths lie. My self-worth isn't tied to my white girl dance moves.
'Be honest,' I insist, too insistently. 'I can take it!'
So as you see, I quite literally asked for it. And so, when the opinions of my most trusted loved ones are eventually entered into an online Word Bubble Generator (as per most sophisticated research models), the results are cruel and unambiguous: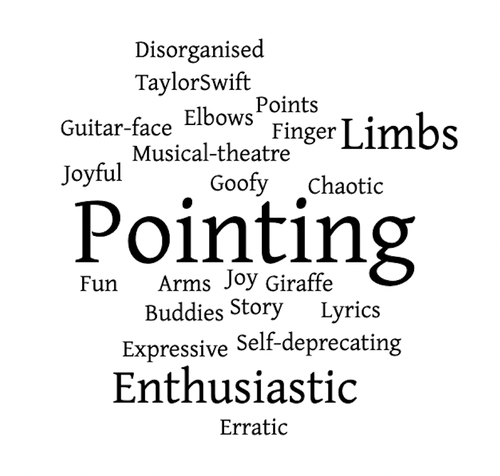 According to wordclouds.com my dancing style is that of a thrilled, flailing giraffe who … points a lot? (Honestly the pointing thing was news to me, and I'm grateful to have been made aware of it).
As for my overall score? 6/10. But that's taking into account the 11 my cousin gave me for being her 'bad-dancing buddy!', dragging the average up.
The purpose of this martyr-ish market research wasn't to crush my ballerina dreams (although, bye). Rather, it was a crucial background check before I embarked on my next Blow-in blog adventure: my very first dance lesson.
Binnaway Soldiers' Memorial Hall has been the scene of much revelry over the years. Its inaugural ball was held on June 16, 1926, a night immortalised in a black and white photograph that still hangs in the Hall today – a scene of around one hundred debonair guests, gathered for an evening of brassy music and sequence partner dancing.
An item from The Land newspaper in 1930 describes another such 'successful function' at the venue: 'pretty frocking, excellent music by the Binnaway Dance Band, and one of the far-famed C.W.A. suppers, made the district glad to possess such a rendezvous.'
A rendezvous! Oh how I want to attend a rendezvous. To glide across polished wooden floors, beneath vast ceilings in a swirly, 'pretty' frock. Dizzy, tipsy, sweaty. In step with strangers.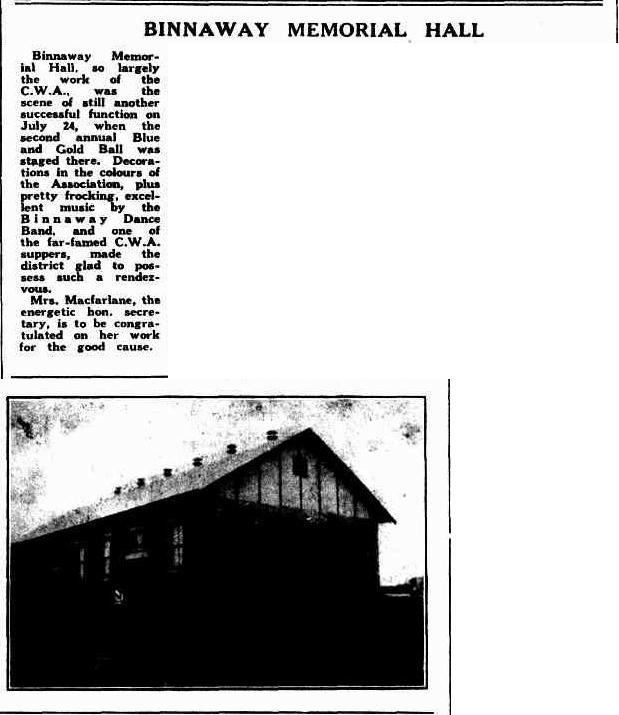 IMAGE: A function at Binnaway Soldiers' Memorial Hall, as decribed in The Land newspaper, August 1930.
---
But these days, rural town halls like the Binnaway Soldiers' Memorial Hall rarely enjoy the 'successful functions' they once did.
When I set foot in Binnaway Soldiers' Memorial Hall at 10am on a Saturday in 2022, I am immediately aware of its hugeness. Both in the physical sense of space inhabited – the stature and dignity that comes with being a big old brick building that's seen some stuff. But also the hugeness of all the negative space, the emptiness. Like wandering through the rooms of a house after moving day, once all the furniture and people are gone.
Certainly it felt much too huge for today's purposes – an hour-long beginner's ballroom dance class with lanky ole me, in my connies and cropped tee.
I was attending a class taught by Gary and Cheryll Roberts of G&C Ballroom. A married couple from Newcastle, with over 11 years of dancing experience, Gary and Cheryll are both qualified dance adjudicators and members of the board of Australian Teachers of Dancing, professionals in the styles of Ballroom, New Vogue, English Sequence Dancing, Modern Latin, American Smooth.
Despite the intimidating resume, in person, they are funny and easygoing. Though I am the only student to show up that morning, they waive the $10 fee and proceed with the class.
I learn the basics of the cha-cha, and the fundamentals of the social fox trot. Gary partners me and Cheryll counts us around the room, with the patience and persistence of a school teacher (which is, in fact, her day job).
'Right foot, right foot.'
I step on Gary's feet a bit. He leads gently, expertly, with a firm yoink every now and then when I fall out of step. I am, as expected, not a natural. But I also am, despite the odds, having a great time.
Gary and Cheryl took to ballroom dancing relatively late in life, two adults in search of a hobby that would keep them moving into retirement.
'It was either that or lawn bowls,' says Cheryll. And honestly, with names that are only a few letters away from the Barrys and Shirleys of Baz Luhrmann's Strictly Ballroom, it was meant to be.
At the end of the class, I venture to ask my instructors if they might treat their humble student to a dancing demonstration. You know, show me how it should look. They kindly oblige.
To the tune of 2015 pop banger Ex's and Oh's by Elle King (gotta keep up with the kids) Gary and Cheryll careen around the room with incredible synchronicity and ease, graceful and intricate, lively and composed.
As I watch, awed, I imagine the hall in its heyday, full of couples like Gary and Cheryll, whisking each other from corner to corner.
In addition to the photograph of the 1926 ball, there are other reminders of the Binnaway Memorial Hall's history, the dancing and festivities that used to fill this place. A low-level stage for the band. A dining room attached to the dance hall. Gary gestures to the floorboards which I now notice are two-toned – the darker timber forming a kind of runway that wraps right around the room.
'That's where they danced.'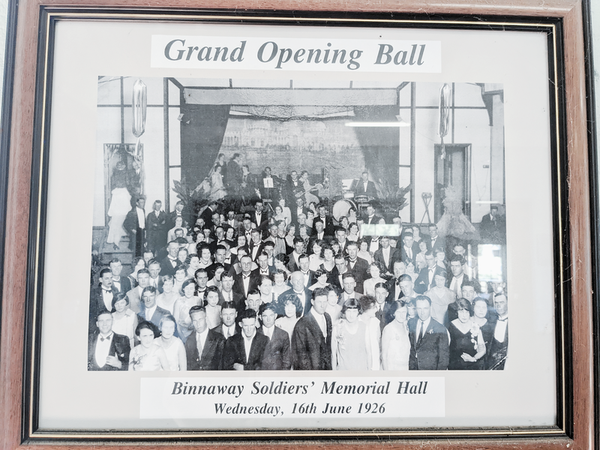 IMAGE: Guests at the Binnaway Soldiers' Memorial Hall Grand Opening Ball, June 1926. The photograph still hangs in the Hall today.
---
The thing is, for all my awkwardness and elbows, I really do love to dance. I always have. When chatting to each of my parents for my 'research', both separately called upon memories of toddler Emma, whose crippling shyness seemed to inexplicably evaporate whenever music came on.
'Totally absorbed,' says dad.
'In your own little world,' says mum.
Now in my twenties, my friends and I will push apart furniture and boogie in living rooms, never quite making it to the pub as intended. Or sync-up our Spotify queues for the tipsy walk home, prancing through suburbia à la West Side Story.
Dancing, even bad dancing, is a blast.
When I call Gary a few days later, I ask if he and Cheryll will be bringing their classes back to Binnaway anytime soon. Given Saturday's attendance of one, he admits this is unlikely, although they'll 'see how things go' when they move out to their Binnaway property in the new year.
I picture the lonely old hall and feel a bit bummed out.
'Twenty years ago there were hundreds of dances being held,' says Gary. 'It's going by the wayside now.'
It feels a little lame to ask him to rate my dancing after this, but of course I do anyway.
'8/10' he says after a short pause, and I picture the number on a big white scorecard, aloft before a cheering crowd.
Friends and family overruled! According to the experts, my dancing is an 8/10!
It is likely, of course, that Gary's verdict is the generous kind, a supportive teacher encouraging their student.
But I've learned my lesson when it comes to pursuing the matter, and I decide to leave it at that.
---
Our new 'Blow-in' blog series follows newcomer, Emma, from mountain top to coffee shop as she gets acquainted with the local way of life. Reach out to emma@coonabarabrantimes.com with your ideas for where we should send our blow-in next...
Back to News
Category
Featured / Social / Community